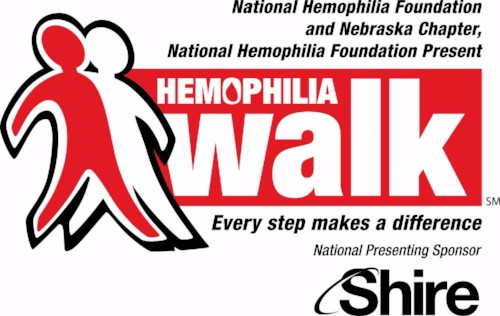 The Nebraska Chapter of the National Hemophilia Foundation (NHF Nebraska) is proud to present our Annual Hemophilia Walk!  We are proud to be a part of the National Hemophilia Foundation's Hemophilia Walk program consisting of over 35 walks nationwide!  
Over 250 children and individuals in the state of Nebraska are affected by bleeding disorders such as hemophilia and vonWillebrand's disease. Improvements in care and advancements in therapies are allowing people with hemophilia and other bleeding disorders to live a better quality of life than in years past, and we will continue this work until we find a cure!
REGISTER TODAY!
WALK SPONSORSHIPS
NHF Nebraska welcomes Local Walk Sponsorships at all levels. Please invite your company and contacts to consider serving as a local walk sponsor. These sponsorships make a tremendous difference in the lives of our community – join the cause today. To learn more about sponsorships, visit our Walk Sponsorship web page or contact us at kcunningham@hemophilia.org or 402-889-0572.
Saturday, September 30, 2017, Chalco Hills Recreation Center
9:00am Registration, 10:30am Walk Start.
OUR GOAL, YOUR HELP
This year's fundraising goal is $50,000! There are many challenges to fundraising, but ultimately it's about telling your story. Our most successful fundraisers are the ones that share why they walk. 
CONTACT
For any additional questions or comments, please contact Walk Manager, Kesley Cunningham at kcunningham@hemophilia.org or (402) 889-0572.
Register today at www.hemophilia.org/walk
Walk Kick Off
This form stopped accepting submissions on July 27, 2017 6:00 pm CDT.
Join us at UNO in the Community Engagement Center room 201 to learn how to put the fun in fundraising. This is your opportunity to learn from our great walk teams with some real life examples, while also getting to hang out with your friends/family. Following our discussion we will be heading to Elmwood park to BBQ if the weather allows, otherwise we will be enjoying some subs at the Community Engagement Center. So bring your team, your appetite, and ideas on how to bring your team to the top!
Contact Information
Kelsey Cunningham
402.889.0572