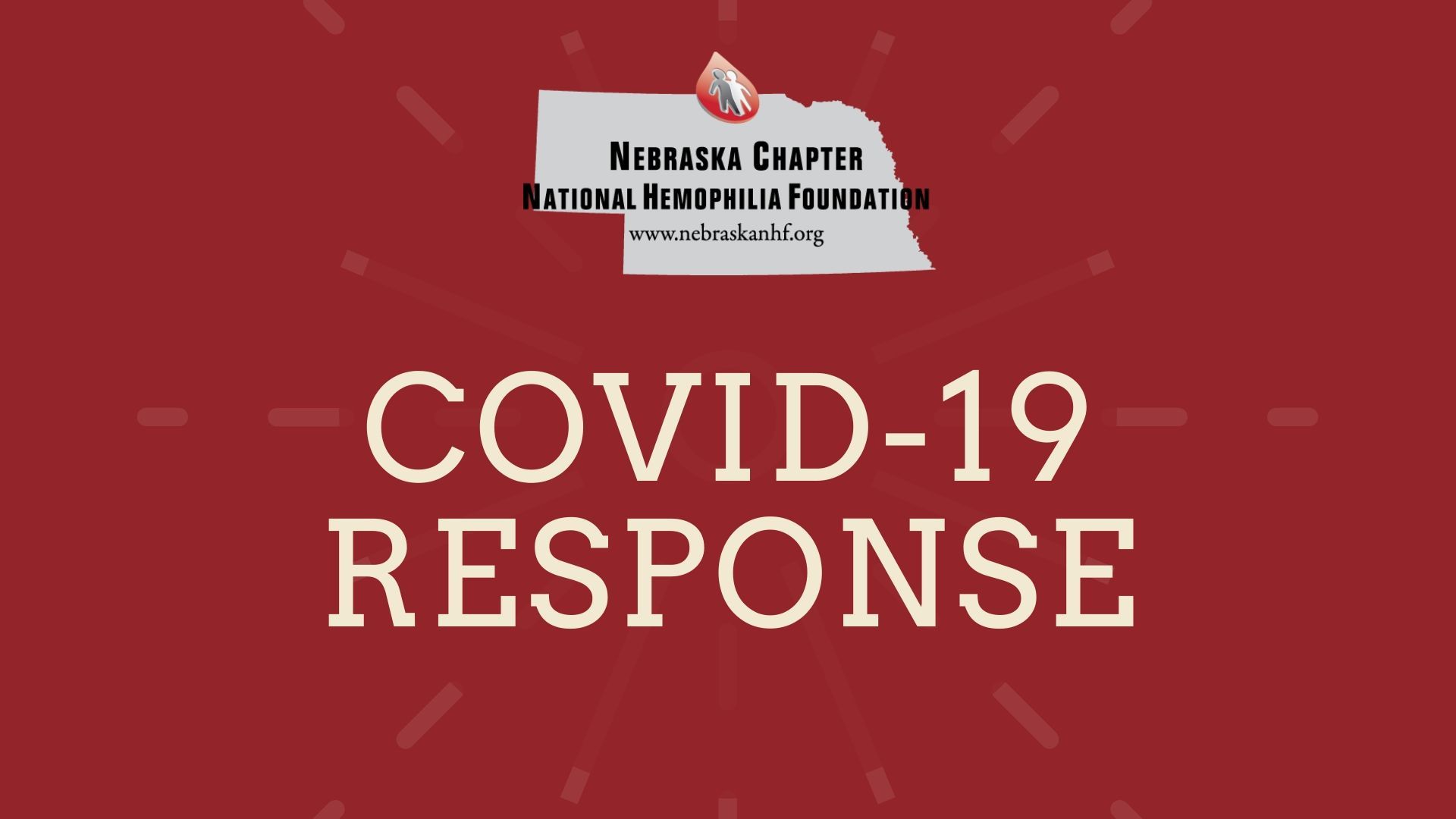 ---
Updates from NENHF Regarding COVID-19
---
March 16, 2020
Dear Friends, Community Members & Supporters,
As we learn more by the hour about the spread of COVID-19 in the United States and around the world, it could be easy to get overwhelmed by the news. At the Nebraska Chapter of the National Hemophilia Foundation, we take this global pandemic seriously. Although the days ahead will doubtlessly require us to adapt, we will remain resolute in our efforts to meet this unprecedented challenge together.
The Nebraska Chapter of the National Hemophilia Foundation's first priority is the health and safety of our community. As a health focused organization, we must consider the impact on the health of our community in all our work. We are following the National Hemophilia Foundation's policy to cancel all travel and restrict in-person meetings to no more than 10 people through April 30th, 2020, at which time we will re-evaluate the situation.
We are here for our community. Our 2nd priority is to continue to be a resource for the bleeding disorders community, especially now. While the nature of our programs may adjust to accommodate health and safety protocols, we will continue to provide web-based and mailed education, financial assistance, bleeding disorders information and remain in regular communication with the Nebraska bleeding disorders community.
We need our supporters now more than ever. As all of Nebraska feels the effects of the COVID-19 outbreak, we know that our bleeding disorders families will need the support, assistance, and resources offered by the Chapter. We need our supporters to help us continue to serve them during this time of crisis. We anticipate an increase of financial assistance requests as families feel the effects of reduced work and pay. We ask for your continued partnership to help our community.
What to expect from NENHF.
Communication: The Nebraska Chapter Team will continue to be available by text, phone and email during business hours of 8:30 am – 4:30 pm M-F although our physical office may not be continually open. You can continue to expect a 1-2 business day response time from staff.
Expedited Financial Assistance: All Financial Assistance Requests will be expediated with a goal of processing within five business days of receipt of application through April 30th.
Continual Updates: We will continually communicate information and updates to the bleeding disorders community through email, social media, texting, and our website.
Donor Commitments: We will be in direct communication with donors and sponsors of specific programs that need to be adjusted. We are committed to meeting our donor expectations as best we can within this unexpected situation.
Here is the status of our scheduled programs through the end of May. Updates and changes will be emailed and posted on our website. 
·         FAB Joint Women's Retreat- POSTPONED. All four chapters are actively working with Octapharma and our venue to find a new time that will work to host this event in 2020. If we cannot agree upon a date, it will likely get pushed to 2021.
·         Nebraska Advocacy Dinner- March 24th- Canceled
·         Nebraska Advocacy Day- Moving online and to mail. We are working with NHF's Advocacy team to present a webinar on Nebraska Advocacy. Additionally, we will work with the community to do a mail advocacy campaign with red ties to their legislators as we won't be holding anything in person.
·         Genentech Dinner- April 14th- Tentatively rescheduled for June 2nd.
·         PING- April 18th- Rescheduled for this summer. Date TBD with expectation being late June.
·         Family Education Weekend- May 16-17th- Postponed. We are currently working with our venue, sponsors and speakers to find a date in 2020 that we can move our event to as we know how important the social aspect of this event is during this time.
·         Family Camp– June 5-7th: Continuing as Scheduled. Any changes or updates will be promptly communicated to camp families.
All events scheduled after June 1st are continuing as scheduled at this time.
We understand this is a confusing and challenging situation that is constantly evolving. If you have any questions or concerns, please don't hesitate to contact us. We are here for our community.
Sincerely,
Maureen and Misti
A note from your HTC:
     "Please make sure you are following the CDC guidance for COVID19 prevention. The blood supply and factor supply is clean and safe. There is currently no shortage of factor.  Please continue all current treatments. Your HTC staff is available to talk by phone. The HTC is expecting a lot of bleeding disorder patients this week due to regularly scheduled comp clinics. If you have been exposed or if you show any symptoms of being sick, please call to reschedule your appointment. If you believe you have COVID19, please reach out to your Primary Care Doctor for guidance."
James Harper, MD | Nebraska Hemophilia Treatment Center