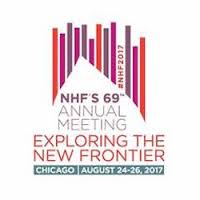 Applications open for Travel Grants to NHF's Annual Meeting in Chicago / Abiertas las aplicaciones para becas de viaje a la Reunión Anual de NHF en Chicago. The National Hemophilia Foundation (NHF) is pleased to offer Connections for Learning Grants for those who want to attend its 69th Annual Meeting in Chicago, IL, August 24-26, 2017.
NHF's Annual Meeting enables the bleeding disorders community to come together and exchange information on a wide variety of topics, from the basics of hemophilia and von Willebrand disease to the latest research breakthroughs and new drug therapies. Further, the three-day conference provides the premier opportunity for networking and support for individuals and families affected by bleeding disorders.
NHF has committed to providing funding to a number of families who want to attend its Annual Meeting. There, they can take advantage of the wealth of information and educational opportunities, and get to know other families coping with a bleeding disorder.
Eligibility: To provide a more inclusive Annual Meeting, NHF offers a limited number of Connections for Learning Grants to individuals and/or families with bleeding disorders who wish to attend the Annual Meeting for the first time or to returning families. While any returning individuals/families are welcome to apply, preference is given to those who have not been able to attend in many years. NHF would especially like to provide assistance to those unable to attend due to personal obstacles or other barriers. Awards will be based on these factors and on need.
Restrictions: NHF STAFF, BOARD MEMBERS AND CHAPTER STAFF ARE NOT ELIGIBLE TO APPLY. TO BE ELIGIBLE, APPLICANTS MUST RESIDE IN THE UNITED STATES OR ITS TERRITORIES.
What the Connections for Learning Grant Covers: The grant may be used to cover among the following (ONLY the type of assistance that you TRULY need):
Airfare
Driving (Mileage – if you do not fly) *
Hotel
Childcare
*Please note: Ground transportation to and from the airport, and parking at your local airport are not covered by NHF.
** Approved applicants automatically will receive registration to the meeting
Applicants may apply for grants in one or more of these categories, for a maximum of three nights and four days.
Application Details: Please apply online. Your application must be completed online by 11:59PM Eastern Time on Friday, February 3, 2017.